Go Font Yourself
A font workshop at Northern Virginia Community College, Alexandria Campus
Presented by the Communication Design Advisory Committee
April 14, 2010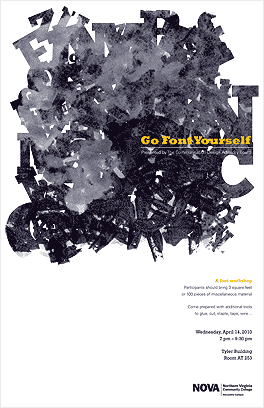 On Wednesday, April 14 students faculty and members of the Communication Design Curriculum Advisory Committe assembled for an evening of font creation. Students arrived with a collection of found materials and armed themselves with tools. Faculty and committee members kicked off the evening with a presentation of inspirational work revealing that unexpected materials can result in new letterforms.
With students completely surrounded by type samples the challenge began—to create their own letterforms. In less than three hours the room was filled with cleverly designed fonts built with unexpected materials. Click the buttons, below, to see images that inspired students and a photo gallery of the evening's activity—including the surprising results!
Click for details about the Communication Design Program at NVCC.
Click here to learn more about the Curriculum Advisory Committee.